Legault, Robert B.
Partner
Lawyer
Tel. :

514-842-8894
Fax :

514-842-6202
Assistant
Martine Dumont
Tel. :

514-842-8891 (8222)
language(s) :

French, English
Areas of practice :

Advertising, entertainment law and IP --
Considered the pioneer of communications Law in the province of Quebec, Robert B. Legault has extensive expertise with respect to legislation regarding commercial advertising, marketing, promotions and communications. He is recognized as an expert in the fields of automotive advertising, children's advertising and spokesperson agreements.
In addition to advising virtually every major advertising agency in Quebec, Mr. Legault also provides legal counsel to numerous associations, including the Association of Canadian Advertisers (ACA) and the Association des agences de publicité du Québec (AAPQ). Over the past 25 years, the advertising industry has entrusted him with the mandate of negotiating on behalf of the Joint Producers Association (JPA) the Agreement concerning advertisements with the Union des Artistes (UDA).
Mr. Legault was recommended in the 2013 edition of the Canadian Legal Lexpert® Directory as a leading practitioner in the field of Advertising and Marketing Law and he was named "Lawyer of the Year 2012" in Advertising and Marketing Law for the Montreal region – by Best Lawyers®. A well established and respected publication within the legal community, Best Lawyers® honors a single lawyer in each practice area, in each community, with the title "Lawyer of the year". Mr Legault is listed in Best Lawyers® since 2006.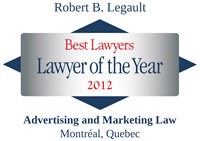 Bar :

Quebec Bar (1974)
University :

Sherbrooke University (LL.L) 1972
Associations :

Advirtising Standards Canada
Association des juristes pour l'avancement de la vie artistiques (AJAVA)
ALAI Canada